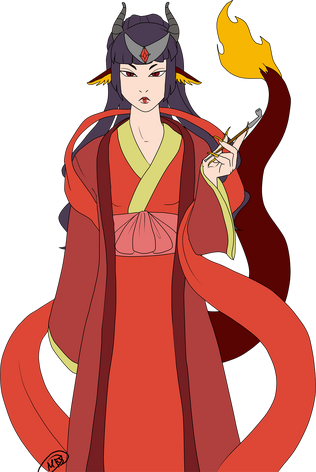 Kimiko is the Dragon Lord's first wife and the mother of Jiro. She considers herself the adopted mother of Kichiro, although she doesn't give him much attention anymore. She finds her husband to be tedious and frustrating, especially since her son is not the only one he is considering as an heir. She has long forgotten the days of the tea house. 
Fun Facts
Sex: Female
Species: Eastern Dragon - Fire Element
Enjoys smoking
Hates the other wives/concubines and their offspring
Was more humble prior to becoming queen
Favorite Tea: Dragon's Blood Tea
Special Power: Fire element powers
Goals: Get Jiro on the throne
Love Life
She was arranged with Ryuu when she was much younger. Back then the relationship was full of wonder and hope for the future. But once Ryuu began ruling and her role changed, so did the relationship. She was having difficulty producing a child with Ryuu and when the first concubines came, she grew jealous and cold-hearted. Kimiko is no longer faithful to Ryuu, but has been able to keep that hidden from him for a very long time. 
Love Style: Sadistic